The Time is Now – Prophecy Summit 2018
July 28, 2018 - July 29, 2018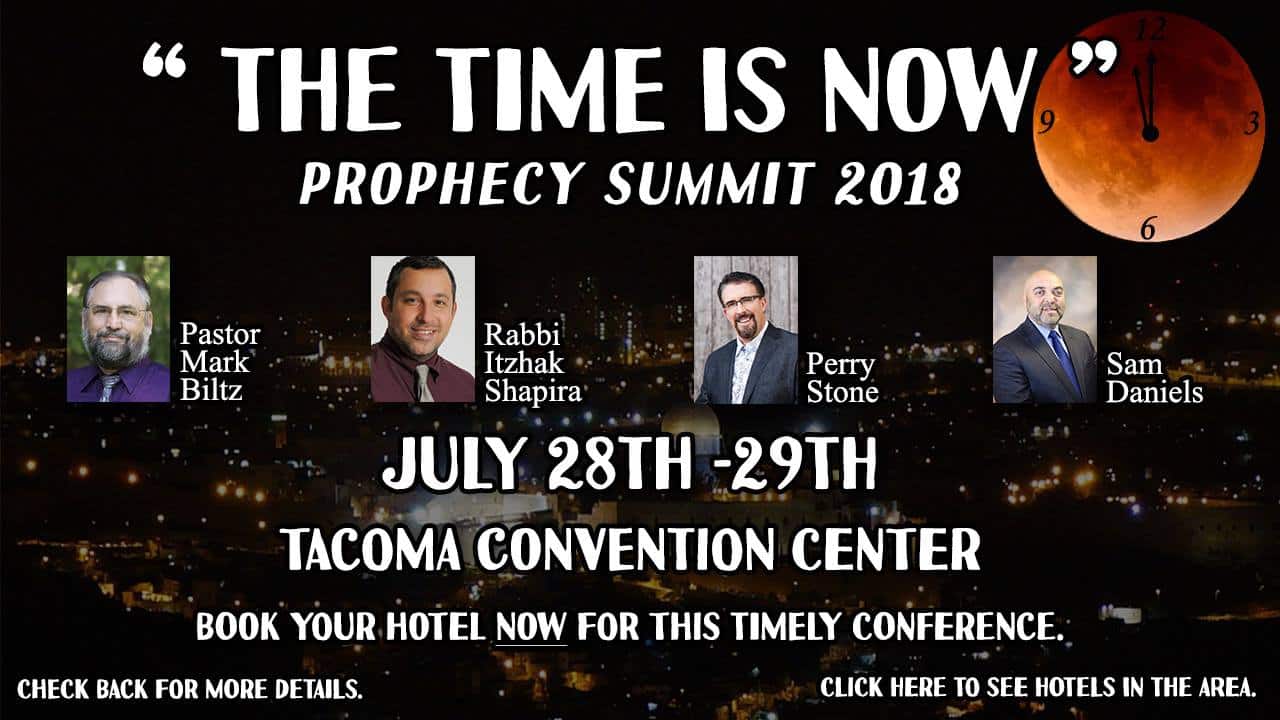 Welcome…
We are living in a world of chaos! People have taken sides and hatred no longer hides. We are now the divided states of America and the Middle East is at a tipping point. The world could change in an instant. Do you want to be prepared for what is coming? Have you ever wondered how close we are to the 2nd coming?

"THE TIME IS NOW" Prophecy Conference is coming to Tacoma July 28th and 29th. Come find out what is just ahead.
Speakers will be:
PERRY STONE – who is seen weekly on worldwide TV. This will be his first time to Washington State.
RABBI SHAPIRA – a Messianic Rabbi, known all over the world, with end time knowledge that will amaze you.
SAM DANIELS – who converted from the Muslim religion after a vision of Jesus on his deathbed! He'll reveal astonishing insights!
MARK BILTZ – whose Bible knowledge is sought after worldwide. His end time understanding is riveting!
Schedule
Saturday, July 28th
10:00 – 11:30am Worship & Mark Biltz
12:00 – 1:30pm Lunch Break
1:30 – 3:00 pm Rabbi Itzhak Shapira
3:30 – 4:30pm Sam Daniels
4:30 – 7:00pm Dinner Break
7:00 – 8:30pm Worship & Perry Stone
Sunday, July 29th
10:00 – 11:30am Worship & Perry Stone
12:00 – 1:30pm Lunch Break
1:30 – 3:00pm Rabbi Itzhak Shapira
3:30 – 5:00pm Pastor Mark Biltz
– Childcare is not available –
– Conference is free. NO registration required –
Food is allowed in the Convention Center, so feel free to pack a sack lunch to bring.
Please note that you will need to pay for parking.
Also, parking may be limited on the street due to other events in Tacoma this weekend.
Speakers
Pastor Mark Biltz
Mark Biltz, founder of El Shaddai Ministries in Washington State is a well-known
and popular commentator on the Feasts of the Lord and has produced a series of
DVDs on the Feasts that have gone around the world. He is also the discoverer of
the significance of the Blood Moons and God's Calendar.
Rabbi Itzhak Shapira
Rabbi Tzahi (Itzhak) Shapira was born and raised in a traditional Sephardic
Jewish home in Israel. After years of studying Rabbinic Jewish texts, he found
the Messiah within the Hebrew writings. Rabbi Shapira serves as the founding
rabbi of Ahavat Ammi, an international Jewish organization that is focused on
reconciliation between Jews and Yeshua.
Perry Stone
Throughout his more than thirty-two years of full time ministry, Perry has
authored over forty books and booklets; produced over one-hundred videos and
DVDs as well as produced hundreds of audio teaching albums series. Manna-Fest
with Perry Stone, a weekly television program was launched and can be seen
nationally and internationally.
Sam Daniels
After 50 years of devotion to Islam, Sam was saved on his death bed through a
vision of our Lord Jesus Christ. Since then Sam has dedicated himself to serve
God without compromise.
Local Hotels
• Hotel Murano
3411, 1320 Broadway, Tacoma, WA 98402
Ph: (253) 238-8000
• Silver Cloud Inn
2317 Ruston Way, Tacoma, WA 98402
Ph: (253) 272-1300
• Holiday Inn Express & Suites
2102 South C St., Tacoma, WA 98402
Ph: (253) 272-2434
• Best Western Plus
2611 East E St., Tacoma, WA 98421-1225
Ph: (253) 272-7737
• Red Lion Hotel
8402 South Hosmer St., Tacoma, WA 98444
Ph: (253) 548-1212
• Courtyard Tacoma Downtown
1515 Commerce St., Tacoma, WA 98402
Ph: (253) 591-9100
RV Parks
• KOA RV/Camp Grounds
5801 South 212th St., Kent, WA 98032
Ph: (253) 872-8652
• Majestic Mobile Manor
6906 52nd St. Ct. E., Puyallup, WA 98371
Ph: (253) 845-3144
See our website for more suggestions.